Experiencing delays in receiving scripts and biologic medication? Tell us in our survey!
During 2020 and 2021, some people on biologic disease modifying anti-rheumatic drugs (bDMARDs) for arthritis and other musculoskeletal conditions have reported long delays in receiving their scripts and access to their medication.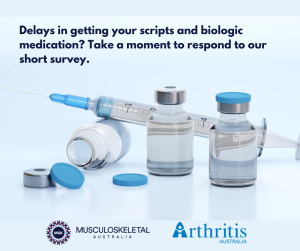 The Consumer Advisory Committees of Arthritis Australia and Musculoskeletal Australia want to know if you have also experienced similar delays and what the impact has been for you (or your child if they are on a biologic DMARD). If broad problems are evident, Musculoskeletal Australia and Arthritis Australia will work together with other relevant groups to try to address the issues causing these delays.
If you are on a biologic DMARD for your arthritis and other musculoskeletal condition/s, we'd be very grateful if you could respond to a short, online survey. It will take no more than 5 minutes of your time.
The survey closes on Monday 14 March and the results will be made available in April 2022.
Sign up to
Arthritis Insights
Regular updates, news and research findings delivered to your inbox: