New Osteoarthritis of the Knee Clinical Care Standard Launched
People with osteoarthritis of the knee should start to receive more consistent and appropriate care following the release of a new clinical care standard for the condition. A consumer fact sheet about the new standards outlines what they mean for people living with knee osteoarthritis.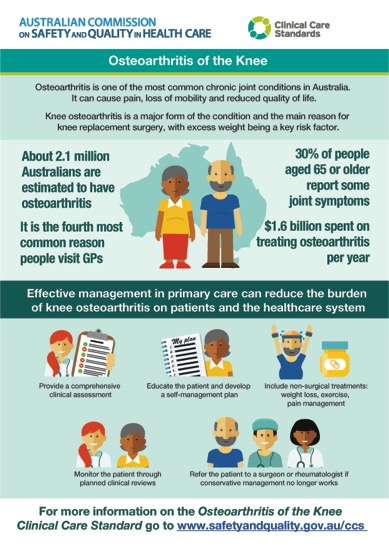 The standard was developed by the Australian Commission on Safety and Quality in Health Care in response to evidence that clinical care for people with knee osteoarthritis varies and is not always appropriate.
The standard provides guidance to healthcare professionals and people living with knee osteoarthritis on the best way to manage the condition. Topics covered include assessment and diagnosis of the condition, patient education, self-management and review, conservative treatment options including medications, weight loss and exercise, and specialist referral for this common chronic condition.
The clinical care standard emphasises the importance of patient-centred care, team care and the role of general practitioners, specialists and allied health care professionals in helping people living with knee osteoarthritis to manage their condition.
Arthritis Australia provided input to the development of the clinical care standard and has endorsed it.
Osteoarthritis affects about 2.1 million Australians, particularly those aged over 45. Knee osteoarthritis is a major contributor to disability and lost productivity, yet there are varying levels of understanding about its diagnosis and treatment options among healthcare professionals and consumers.
You can download a copy of the care standard and additional resources here.
Review and updated July 2017.
Sign up to
Arthritis Insights
Regular updates, news and research findings delivered to your inbox: