Easy to Open Certified packaging
Arthritis Australia's Easy to Open Certification recognises packaging that makes life easier for people who have arthritis and other physical limitations. The packaging is tested with arthritis consumers to ensure they meet your needs. Find out more about the program here.
Why Easy to Open certification is important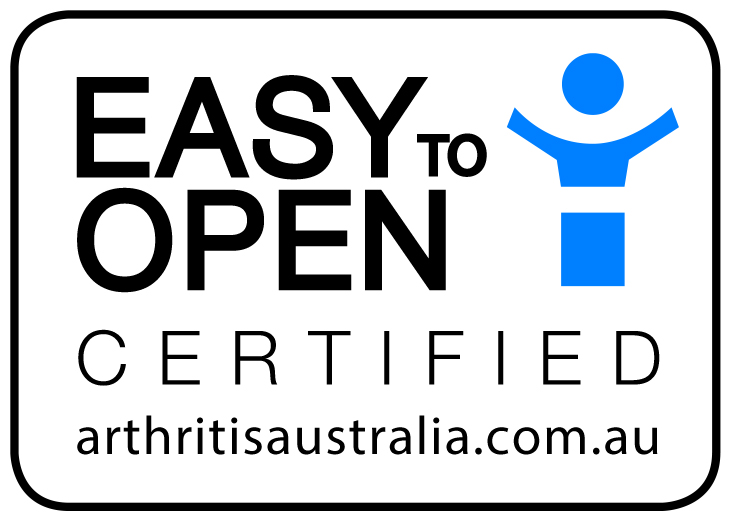 Too often products use terms like 'easy-open' on their packaging, but rarely do these types of descriptions meet expectations. To provide a definitive standard Arthritis Australia created an Easy to Open certification program in Australia that consumers can trust.
Certified products
Below is a list of products currently certified. Please note this endorsement is only for the packaging's easy-to-open nature and not for the contents that the packaging contains.
Biscuits
Gumnut

Choc Chip & Coconut

Gumnut

Single Oatmeal

Gumnut

Twin Oatmeal

Gumnut

Double Plain
Cereal
Eatwell

Bran Flakes 'n Sultanas 30g

Eatwell

Bran Straws 30g

Eatwell

Cornflakes 30g

Eatwell

Grains and Fruits 30g

Eatwell

Natural Muesli 30g

Eatwell

Rice Pops 30g

Kellogg's

Corn Flakes - Gluten Free 20g

Kellogg's

All Bran Cranberry and Pink Lady Apple 40g

Kellogg's

All Bran Original 50g

Kellogg's

Coco Pops 35g

Kellogg's

Corn Flakes 25g

Kellogg's

Corn Flakes 30g

Kellogg's

Just Right 30g

Kellogg's

Just Right 40g

Kellogg's

Sustain 45g

Kellogg's

Sultana Bran 30g

Kellogg's

Sultana Bran 40g

Kellogg's

Rice Bubbles 25g

Kellogg's

Rice Bubbles 30g

Kellogg's

Nutri Grain 25g

Kellogg's

Special K Original 30g
Fruit cups
SPC Provital

Apple Puree 120g

SPC Provital

Apple & Apricot Puree

SPC Provital

Apple & Peach Puree

SPC Provital

Apple & Strawberry Puree

SPC Provital

Fibre Right - Apple & Prune Puree

SPC Provital

2 Fruits

SPC Provital

Apricots

SPC Provital

Fruit Salad

SPC Provital

Peaches

SPC Provital

Pears
Sign up to
Arthritis Insights
Regular updates, news and research findings delivered to your inbox: