COVID-19 Vaccination Information
Patient Information on the COVID-19 vaccination in autoimmune inflammatory rheumatic diseases (AIRD)
Please encourage your household members and other close contacts to have the COVID-19 vaccine, including the booster dose, once they are eligible as this may offer you further protection from getting COVID-19. This is known as the "ring" vaccination concept.
An Australian Government COVID vaccine fact checker is available.
A 2 page guide for your treating doctors can be found here. Please refer to the Australian Living Guidelines for the Pharmacological Management of Inflammatory Arthritis for more detailed information.
Why is it important for me to have the vaccine?
Some diseases (including rheumatoid arthritis) are caused by the body's immune system, which usually protects us from infection. When the immune system is affected by arthritis or medicines to treat the condition, the risk from COVID-19 may be increased.
If you get vaccinated, you will be less likely to get COVID-19. Even if you do get COVID-19 when vaccinated, it is more likely to be a milder illness. 
There are currently 3 COVID-19 vaccines used in Australia.
For more information on vaccines used in Australia, visit: https://www.health.gov.au/our-work/covid-19-vaccines/our-vaccines/how-they-work#covid19-vaccines-in-australia
How many Covid-19 vaccines do I need?
Who should receive an additional booster?
If you are >18 years and are at risk of severe COVID-19 illness, it is recommended to have at least one booster in 2023.
If you are > 75 years and it has been > 6 months since your last dose, you should have a booster, even if you have already had one in 2023.
If you are >65 years and have severe immunocompromise, speak to your rheumatologist or doctor if you should get an additional booster.
Some people may qualify to receive a vaccination earlier than the recommended 6-month interval. For more information on who should receive an additional dose of COVID-19 vaccine see the ATAGI recommendation: ATAGI Update on the COVID-19 Vaccination Program | Australian Government Department of Health and Aged Care
Will the medications I take for my condition effect the way the vaccine works?
Some people who are taking medicines that suppress the immune system may be given advice to continue avoiding exposure to COVID-19 after they have had the vaccine. This is because their medications could mean their immune system doesn't respond as strongly to the vaccine as people who don't take these drugs.
This does not mean you should stop your treatment, because this can result in a flare of your condition which puts you at greater risk from COVID-19.
The timing and dosing of some medicines may also need to be individualised, if you are unsure, please speak to your treating rheumatologist for advice.
Can I have other vaccines (e.g. Influenza vaccine) at the same time as the Covid-19 vaccine?
Yes, the COVID-19 vaccine and the influenza (flu) vaccine can be safely given at the same time.
You do not need to delay your flu vaccine, in fact the COVID-19 vaccine does not protect against the flu, so it is important to still have your annual flu vaccine.
Do you still need the vaccine if you have had COVID-19?
Yes, people who have had COVID-19 should still be vaccinated with a COVID-19 vaccine. This provides extra protection against future infections. Wait for 6 months after COVID infection or previous dose of COVID vaccine before receiving a COVID-19 vaccine booster dose.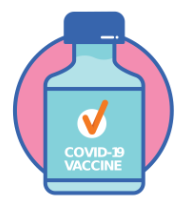 For further information please see the Covid-19 Vaccination information sheet  
Content last updated October 2023
Sign up to
Arthritis Insights
Regular updates, news and research findings delivered to your inbox: