Fast facts
What does arthritis look like in Australia?  We've put some infographics together to help show just how huge of an impact arthritis is: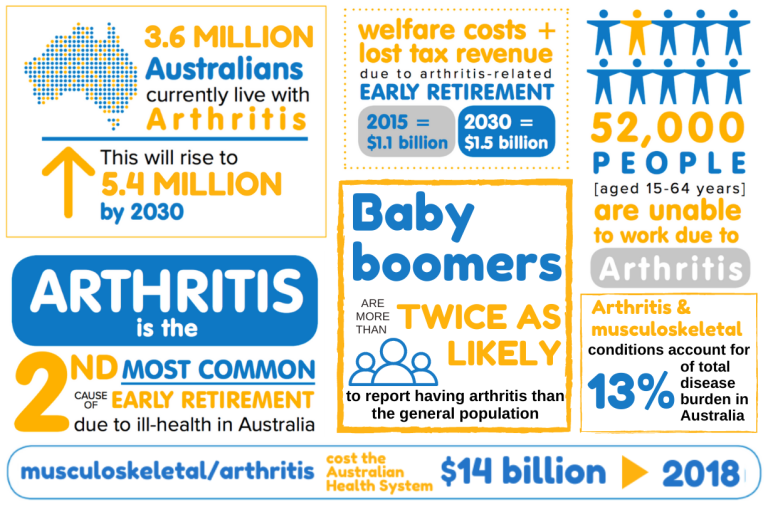 Just want one?
Arthritis in Australia
3.6 million Australians have arthritis. That's 1 in 7 people
Baby boomers are more than twice as likely to report having arthritis as the general population
The most commonly reported long-term health conditions were a mental health condition, arthritis and asthma
The most common co-morbidities in the 2021 census were arthritis and mental health, arthritis and asthma, and arthritis and heart disease
20% of people living alone have arthritis, compared with 7.3% of people living in family or group households
Over 20% of people with arthritis need assistance with a core activity
Arthritis and musculoskeletal conditions account for 13% of the total burden of disease in Australia
Arthritis is the leading cause of chronic pain and the second most common cause of disability and early retirement due to ill health in Australia.
The disease
There are more than 100 different types of arthritis
Most forms of arthritis are thought to be auto-immune conditions, where the body's immune system attacks its own joint tissues
Osteoarthritis, rheumatoid arthritis and gout are the most common forms of arthritis
Children get arthritis too
The cost
Around 2 million people with arthritis are of working age (15-64 years)
52,000 people (aged 15-64 years) unable to work due to arthritis
Arthritis and musculoskeletal conditions cost the health system an estimated $14 billion in 2018
Extra welfare costs and lost tax revenue due to early retirement due to arthritis cost $1.1 billion in 2015
Sources:[1] 2. Australian Bureau of Statistics. Long-term health conditions [Internet]. Australian Bureau of Statistics. 2022 [cited 31 August 2022]. Available from: https://www.abs.gov.au/articles/long-term-health-conditions. [2] Australian Institute of Health and Welfare 2020. Arthritis. Cat. no. PHE 234. Canberra: AIHW. Viewed 10 August 2021, https://www.aihw.gov.au/reports/chronic-musculoskeletal-conditions/arthritis: [3] Australian Institute of Health and Welfare 2021. Australian Burden of Disease Study: impact and causes of illness and death in Australia 2018. Australian Burden of Disease Study series no. 23. Cat. no. BOD 29. Canberra: AIHW: [4] Ackerman IN, Bohensky MA, Pratt C, Gorelik A, Liew D, 2016. Counting the Cost: the current and future burden of arthritis. Part 1 Healthcare Costs. Arthritis Australia 2016. [5] Australian Institute of Health and Welfare 2009. Chronic disease and participation in work. Cat. No. PHE 109. Canberra: AIHW.Last reviewed 31 August 2022.
Sign up to
Arthritis Insights
Regular updates, news and research findings delivered to your inbox: