Why invest in research
Research holds the key to more effective treatments for arthritis
Nearly four million Australians are living with arthritis and you are more likely to develop arthritis than just about any other chronic condition. Although arthritis is often considered an older person's condition, the condition in its many forms affects people of all ages including children, adolescents and young adults.
Arthritis is not yet curable but with early and proper diagnosis as well as a customised management plan, it can be managed to some extent. However it invariably affects a person's quality of life and includes varying degrees of discomfort, pain and disability. In fact arthritis is the leading cause of chronic pain and the second most common cause of disability and early retirement due to ill-health in Australia.
Research Australia's Public Opinion Poll (2008) conducted by Crosby Textor, showed that Australians are more worried about developing arthritis than any other disease. Arthritis is seen as a very significant risk, with 43% of Australians rating their lifetime risk as 1 in 10 or more, and only 2% seeing themselves as having no risk.
The potential impact of research is demonstrated by the dramatic improvements in treatment for rheumatoid arthritis in last 15 years. Research improved our understanding of the disease process and led to the development of new drugs which mean that remission can now be achieved in over 50% of patients.
Research into juvenile arthritis, as highlighted in the case study below, is helping to find new risk factors for arthritis in children and will hopefully pave the way towards better treatments that address the root cause of the disease.
If you would like to know more about how you can make a donation towards arthritis research see make a donation.
---
Case study – Research provides hope for kids with arthritis
Around 6,000 Australian children live with the debilitating effects of juvenile arthritis. Research supported by Arthritis Australia's national research grants program is helping to unravel the mystery of what causes this complex condition.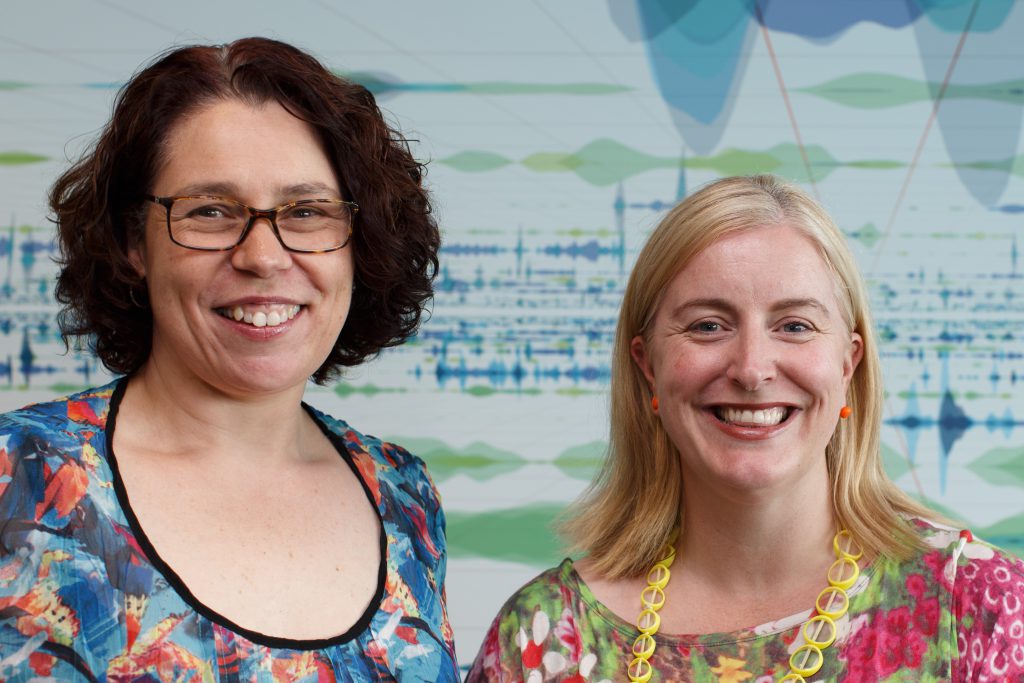 Dr Justine Ellis (left) and Dr Jane Munro
Juvenile Idiopathic Arthritis (JIA) is a serious, yet poorly understood disease that causes stiff, painful and swollen joints and may also affect other organs such as the eyes and skin. The impact on children and families living with JIA can be profound, affecting physical and mental health, family and social relationships, body image, self-esteem and educational achievement.
Dr Justine Ellis and her colleague Dr Jane Munro at the Murdoch Children's Research Institute have dedicated many years to understanding what causes JIA. To help them in their quest, they have established the CLARITY research project with substantial financial support from Arthritis Australia to look at risk factors for the condition.
'Very little is known about the cause of JIA but we do know that genes and the environment play important roles,' said Dr Ellis. 'Our research aims to uncover the interactions between genes and environment that lead to JIA.'
Sarah McHarg, whose 14 year old son Patrick was diagnosed with JIA at just six years of age, is excited by the prospects of this research. 'It would be great to find better ways to prevent, treat and hopefully cure JIA, so other kids and families don't have to go through what our family has been through,' she said.
"When Patrick was first diagnosed I was surprised because I thought only old people got arthritis,' Sarah said. 'I had no idea what arthritis would mean for Patrick and our family.
'Before Patrick got arthritis he was happy, content, easy going and very active,' Sarah said, 'but arthritis changed him. Constant pain will do that to someone.
'He became very sick, lost weight and stopped growing. He began limping and wincing with pain, hopping on crutches and then shuffling in a walking frame, although he drew the line at getting a wheelchair. He also changed emotionally. He developed a temper, became very sensitive and lost a lot of confidence. And the emotional and physical impact of Patrick's condition affected the whole family.
'I am thankful that Patrick's condition is better controlled now with medication, but it would be wonderful to find a cure.'
The CLARITY project is underpinned by a biobank, a collection of biological samples and clinical and environmental data collected from both healthy children and children with JIA. By comparing genetic sequences and environmental exposures between the two groups, factors that increase a child's risk of developing JIA can be identified.
'Our research has already identified new risk factors for JIA and our hope is that our work will pave the way towards better treatments that address the root cause of the disease,' Dr Ellis said.
'We were very pleased to be able to support this fabulous research through our National Research Program', said Ainslie Cahill, CEO of Arthritis Australia.
'Arthritis Australia is the largest non-government funder of arthritis research in Australia. Our national program funds the breadth of research from basic laboratory research into the mechanisms of disease, through to clinical projects to improve treatments and quality of life for people with arthritis and musculoskeletal conditions,' Ms Cahill, said.
'But with more than 100 types of arthritis, we need much more funding for research if we are to achieve our hope of finding cures for these debilitating conditions,' Ms Cahill said.
Sign up to
Arthritis Insights
Regular updates, news and research findings delivered to your inbox: