CEO Announcement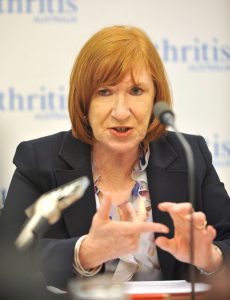 After 12 years at the helm of Arthritis Australia as Chief Executive Officer, Ainslie Cahill will be moving on to new adventures and challenges, leaving behind a valued organisation as well as a legacy of professionalism and integrity.
During Ainslie's time as CEO, Arthritis Australia has raised its national profile and established itself as a highly respected health consumer organisation, known for delivering targeted projects and programs that have been formally recognised across Australia and internationally.
Due to this strong leadership and unwavering focus on making positive impacts on the lives of consumers living with arthritis, Arthritis Australia has grown from a small team with a limited focus, to a larger and effective team with a passion for health consumer engagement and nationwide advocacy – including expanding the range, and digitisation, of numerous arthritis-related resources.
Of the many exciting and unprecedented projects Ainslie has led during her tenure – such as the Multicultural Resources Campaign, the Accessible Design Division and the Medicines Australia Community Chest Program – she is particularly well known for her role in designing the Women's Insights into Rheumatoid Arthritis book, where she personally recruited and matched Australian women with RA with prominent Australian female politicians, making the book the first of its kind.
More recently, Ainslie has also been able to guide the advocacy work which has resulted in Arthritis Australia being commissioned by the Australian Government Department of Health, at the request of the Minister for Health, The Hon Greg Hunt, to develop a National Strategic Action Plan for Arthritis which will be completed by the end of this year.
Andrew Mills, the current Deputy CEO, will be appointed as the new CEO. Andrew has a background in the health sector, not-for-profit organisations and the corporate world. He brings a wealth of experience to the role and is looking forward to the challenges ahead.
The Board and staff of Arthritis Australia are exceptionally grateful to Ainslie, not only for her incredible work and dedication, but also for the bar she has set for Arthritis Australia's future endeavours.
Sign up to
Arthritis Insights
Regular updates, news and research findings delivered to your inbox: