Minister commits to a National Strategic Action Plan for Arthritis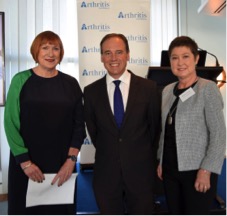 In a major milestone for our advocacy efforts, the Minister for Health, the Hon Greg Hunt, has committed to work with Arthritis Australia to develop a National Strategic Action Plan for Arthritis. The Minister made the announcement at a Parliamentary Friends of Arthritis breakfast in October 2017.
As a first step in developing the Action Plan, a Roundtable of experts was convened on 8 December to identify key action items and priority interventions for implementation. These actions will build on the recommendations of the Time to Move: Arthritis strategy launched by Arthritis Australia in 2014.  Attendees at the Roundtable included experts in rheumatology, research, orthopaedic surgery, general practice, nursing, allied health and primary care and of course people living with arthritis.
The Action Plan will be finalised by the end of 2018.
Sign up to
Arthritis Insights
Regular updates, news and research findings delivered to your inbox: