Our #1in7withArthritis Campaign
During the 2022 federal election, Arthritis Australia sent a copy of our election platform and campaign flag to every federal MP and senator. Hundreds of consumers used our campaign website to email their local MP to tell them about the impact of arthritis in the community and advocate for more support. We also asked the major political parties to provide a response and outline how their policies will benefit the 1 in 7 Australians with arthritis. Click on the links below to read their responses, and stay tuned as we engage with the incoming government:
              Read the Australian Labor Party response
              Read the Australian Greens' response
​
Thank you Andrew Wilkie,
Independent Member for Clark

Thank you Carol Brown,
Labor Senator for Tasmania

Thank you Catryna Bilyk,
Labor Senator for Tasmania
Our platform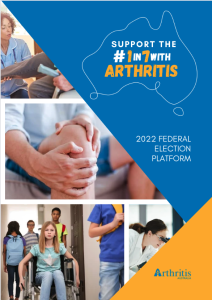 The one in seven Australians with arthritis need more support
"One in seven Australians are living with arthritis – that's more than 3.6 million people of all ages and walks of life, including younger and older adults, and children. Far too often, their pain and disability are trivialised and they miss out on the support and care that could make a real difference to their quality of life. People with arthritis are tired of being told to "just put up with it".
Children with juvenile arthritis, a serious autoimmune condition, can face severe pain and preventable disability due to delays in diagnosis, a major shortage of paediatric rheumatologists, and difficulties accessing the medicines they need through the PBS. A Parliamentary Inquiry has recently found that access to diagnosis and treatment in Australia falls well below the standard of other countries such as the UK, and calls for urgent leadership and funding from the Commonwealth to ensure these children receive the healthcare they need.
The COVID-19 pandemic has hit people with arthritis hard, with elective surgery cancellations leaving 32% of patients waiting over a year for a total knee replacement, immunocompromised people grappling with the risk of infection, shortages of critical medicines, and access to community programs affected.
Not only do people with arthritis not have enough access to diagnosis, care and treatment, but they face significant out of pocket costs. A recent study found median per person expenditure of $1,635 in just six weeks. Given arthritis is a leading cause of disability and early retirement, consumers are facing a double financial hit. This is a particular worry for women, for whom arthritis is more common, who face gender pay and superannuation gaps, and who may have had time out of the workforce caring for children.
The costs to the health system are huge, with arthritis and musculoskeletal conditions the most expensive disease group costing an estimated $14 billion in 2018/19, and hip and knee replacements alone projected to cost over $5.3 billion a year by 2030. Many of these costs could be avoided with earlier diagnosis, better access to preventative and multidisciplinary care and support, and investment in high quality research.
Arthritis also has a major impact on the costs of the welfare system and the broader economy. Welfare payments have been projected to exceed $780 million by 2030, and lost annual taxation revenue is projected to increase to $660 million. A loss of $9.4 billion in GDP has been projected by 2030.
We are calling for all parties and candidates in the 2022 federal election to commit to these immediate actions to address key issues such as the costs of care and joint surgery backlogs, as well as investment in the community programs that make a real difference – supporting arthritis appropriate exercise, and care navigation.
We are also calling on politicians to fix the chronic underinvestment in arthritis research. Arthritis and musculoskeletal conditions have a similar burden of disease to cardiovascular disease, yet only receive one fifth of the government funding. Australia has many of the world's top researchers in the field of arthritis, and we are losing out by not leveraging this strategic strength. By bringing investment in research up to the same level as other disease groups, we will be able to not only provide more effective treatments and the hope of a cure, but unlock major health system savings that will benefit all Australians."
Faithfully,
Jonathan Smithers, CEO – Arthritis Australia
For more information:2022 Federal Budget SubmissionNational Strategic Action Plan for Arthritis
Sign up to
Arthritis Insights
Regular updates, news and research findings delivered to your inbox: