Initial Scientific Review (ISR)
The Initial Scientific Review (ISR) report evaluates packaging in terms of ease of opening, safety and readability. It provides an Accessibility Rating based on the Accessibility Benchmarking Scale, identifies potential design issues and, where appropriate, suggests modifications to resolve these issues.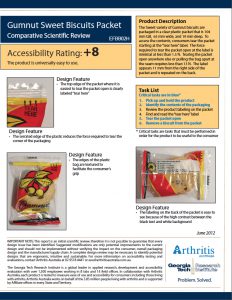 Example ISR report
Accessibility Benchmarking Scale and Accessibility Rating
The Accessibility Benchmarking Scale provides a standard method for comparing the ease of use of comparable products. Each product is given an Accessibility Rating based on the Accessibility Benchmarking Scale which is a rating system of -8 to +8. The highest Accessibility Rating is a +8 and an -8 score is the worst result. The score is a combination of the following three elements:
Critical tasks: The critical and non-critical tasks associated with opening/using a product and the degree of difficulty encountered with these tasks.
Population impact estimate: The estimated percentage of the population who can complete each task and open the packaging.
Safety: If opening the product requires the use of a tool (knife/scissors) then there is an increased risk of injury. Hard to read directions, warnings and expiry dates are also safety issues.
 The Accessibility Benchmarking Scale
Cost: $2,750 (excluding GST) Each additional product tested at the same time is $2,500 (excluding GST).
Uses:
The ISR's Accessibility Rating can be used as a tool to compare your product to a competitor and benchmark changes in your packaging.
The Accessibility Rating can also be used on the Packaging Accessibility Rating Database.
Note: The ISR is a brief report that is based on research but doesn't include consumer testing of the product, therefore it may not identify all accessibility issues and companies cant make claims about accessibility in the media. Companies interested in this type of full consumer testing should visit Easy To Open testing.
Please note: All fees exclude GST and are subject to change as services are provided on cost recovery basis.
Testing for the Packaging Accessibility Rating Database
Packaging Accessibility Ratings for portion control food packaging are used as part of the procurement process in healthcare institutions across Australia. The Packaging Accessibility Rating is mandatory for suppliers to public hospitals in NSW via HealthShare NSW and in Victoria through Health Purchasing Victoria (HPV). The Initial Scientific Review (ISR) is the design report used to provide a Packaging Accessibility Rating. The ISR-Excerpt Rating and Sufficiently Similar testing are two additional services provided to companies testing for the .
Initial Scientific Review (ISR) – Excerpt Rating
In addition to the ISR report, suppliers can request a second cut down version of the same ISR report at no additional cost. The ISR-Excerpt Rating contains the Packaging Accessibility Rating, product photo and product identification codes but no information about how that product achieved the rating. The ISR-Excerpt Rating is design to assist companies in sharing their accessibility results with foodservice purchasing bodies, while still protecting their intellectual property.
Suppliers have the option to submit either the ISR report or an ISR-Excerpt Rating when applying for tenders with HPV and HealthShare NSW. HPV and HealthShare NSW retain the right to request a full ISR report if an ISR-Excerpt Rating is provided.
Sufficiently Similar testing
If a supplier is required to submit Packaging Accessibility Ratings for multiple products in the same range, they may be eligible for testing at a reduced cost. Sufficiently Similar products must have preliminary testing conducted to see if they are significantly comparable to the main product being tested for the ISR.
Sufficiently Similar products should:
be the same type of packaging format
be the same size
be made of the same materials
have identical opening methods and forces
require the same tasks to access and use the product
There can be some differences in labelling, but factors such as legibility and font size must be similar so as to not result in a different Accessibility Rating.
The reason for testing every product on the database is to ensure that all products are thoroughly tested and there are no anomalies with product results.
Conditions: Only the Accessible Design Division can deem if a product is Sufficiently Similar. All products must have preliminary testing conducted before being deemed as such. A quote will be provided after preliminary testing has been conducted. Sufficiently Similar tested products must have their testing conducted at the same time as the primary product's ISR.
ISR Sufficiently Similar cost: If a range of products are deemed Sufficiently Similar then the first product would have an ISR conducted at the usual rate of $2,750 (excluding GST) and each Sufficiently Similar product would have the Accessibility Rating extended to them for the rate of $300 per product (excluding GST).
How to get my products tested
1.     Supply 15 samples of each product that you would like tested (including any packaging with different labelling) to our office by courier or personal delivery:
Level 2, 255 Broadway, Glebe NSW 2037
Please also provide a product spec sheet, which contains:
Manufacturer's name and manufacturer's address
Country of origin/production
Unit value and unit weight
Ingredients and nutritional information
2.     Preliminary testing will be conducted on any potential Sufficiently Similar products. A quote will be provided based on what products will require different ISR reports and which products will fall under Sufficiently Similar testing (Note: the Sufficiently Similar testing is used when companies need to add multiple products in a range to the ).
3.     Testing will begin on approval of the quote and will take between 3-6 weeks
4.     Once a quote is approved, a contract preparation form will need to be filled out and returned to Arthritis Australia. Please identify at this time if you would also like an ISR-Excerpt Rating provided on the product/s being tested.
5.     A contract will then be issued to you (contact the Accessible Design Division to see a draft contract). Two original signed contracts will then need to be sent to Arthritis Australia before results can be released. One original copy of the agreement will be returned for your records.
6.     Once testing is completed and the contracts have been signed, your ISR results will be released to you.
: Please identify if you wish to add your ISR results to the . If you wish to add this information to the database you will also need to supply the relevant ordering codes. This information will then be shared with foodservice purchasing organisations such as HealthShare NSW and Health Purchasing Victoria (HPV).
7.     An invoice will then be issued as quoted.
Initial Scientific Review - Partial Review / Prototype Review
Initial Scientific Review – Partial Review / Prototype Review report is in the same easy to understand format as the ISR, but is used to evaluate specific elements of the packaging or prototype during the design and development process. The report can provide an indicative accessibility rating, but the final complete product still needs to be validated by an ISR. This service can assist you in making informed decisions along the development process, so you can choose the most easy-open option for your customers.
Note: Samples or prototypes may attain a different rating to finished products because of changes that can occur at a manufacturing level or because of packaging elements that were excluded during testing.
Cost: $2,750 (excluding GST)
Testing time: 3-6 weeks
Samples required: 15 samples of each if available, please contact the Accessible Design Division if this is not possible
Comparative Scientific Review (CSR)
The Comparative Scientific Review (CSR) is in the same easy to understand format as an ISR report, but allows you to compare two products to each other. Commonly used to:
benchmark a design against a competitor's product
compare different packaging formats
 highlight changes/improvements between a new and existing product.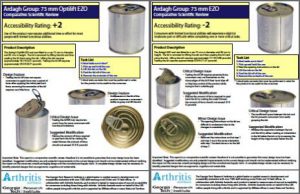 Example CSR report
Cost: $5,000 (excluding GST)
Testing time: 3-6 weeks
Samples required: 15 samples of two products
Sign up to
Arthritis Insights
Regular updates, news and research findings delivered to your inbox: